Weekly Math Updates
November 2, 2005
Hi all,
Petition Maps
If you live in the Alpine School District, I've created a few maps to show the petition signers in our area. This will let you know if you're in a sparse or dense area of signatures and hopefully motivate you to talk to some neighbors. This illustrates the point I made to the school board that not many people know we exist yet. I estimate that less than 10% of the district knows this petition exists. Please spread the word by printing a few of the flyers (attached) and also make a donation through TeachUtahKids.com so we can do a bulk mailout of flyers to the neighborhoods of the school board members whose terms are up next year.
Check out the maps at:
http://www.oaknorton.com/imathmaps.cfm
Here's a sample mini picture of the whole district.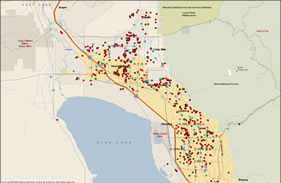 Property Values May Be Influenced
I've received a few emails about people that moved away or didn't move here solely because of the math program in Alpine School District. It's no secret that people are flocking to charter schools, but could we actually experience a drop in property values because people don't like the quality of the school programs here? Related to this, parents that care deeply over this issue are abandoning public education leaving the schools with the children of parents that don't care as much or can't afford to care. A proper study of ASD in a few years may show a drop in socio-economic factors of children in the public schools which could factor into lower grades and less desire for families to move here--which directly affects our property values. The following link is related to this as it was brought up in Plano, Texas which was using Connected Math.
http://www.planoprc.org/housing.htm
Israel Admits Failure
In the 70's when fuzzy math programs were taking on steam, people from foreign countries came to the states to learn the very best in educational techniques. Unfortunately for some countries, they returned with these ideas and implemented them. In 1968, Israel, not Singapore, scored #1 in the world on the TIMMS tests. They were the top mathematicians in the world. In 1999, after years of fuzzy math, they were 28th in the world and rushing to implement Singapore math country-wide. The below article explains this situation and was published in 2003. Here is a quote from the article and a link to the full article:
"Prof. David Nevo became chief scientist of the Ministry of Education a year ago and does not view himself as having any commitment to the old system.
'In recent years, Israel went a little too far to please math teachers,' maintains Nevo. 'They say the children have to learn by means of investigation and discovery, so that they remain interested and happy. And I say that you have to know the basics, too. The mathematicians say that there is no need to rediscover the multiplication tables each time anew, just to learn them, that there are laws and rules and they have to be learned by heart, too. In my view, the explanation for the failure is that with all the involvement in the method, the message was lost. Now there is a clear message coming from the system - that children must be required to have achievements.' "
http://www.haaretz.com/hasen/pages/ShArt.jhtml?itemNo=267177
Till next week,
Oak Norton
If this email was forwarded to you and you would like to sign the petition to rid Utah of fuzzy math, please go to www.oaknorton.com/mathpetition.cfm.