Weekly Math Updates
June 14, 2006
Contents:

ASD Teachers
Media
Orem Petitions
International Perspective on Math
Lawmakers for Charter Schools
Birch Beer part 2 (Off-topic)
Weekly Comic
ASD Teachers
OK, after getting a major talking to by one of the ASD teachers who feels like I just rag on everyone and lump all teachers into the same boat, I need to make something perfectly clear. There are quite a few teachers in the district that have either never supported and used Investigations, or actively supplemented with traditional math even when they felt under duress to not use it. I have probably generalized my language at times and lumped this into one big problem because it exists all over the district, but there are *pockets of rebels seeking the plans that will let the rebels destroy the death star.* I am very grateful to all the teachers that "rebelled" and taught traditional math concepts like the times tables and long division to our children. I guess I silently hoped that those teachers felt appreciated by the efforts I was going to to change the system and make their lives better in some way so they could teach what they knew our children needed. I apologize to any teacher that has been making every effort to teach math and felt like I was not appreciative of his or her efforts.
What isn't well known (because I can only load you up with so much email before you ask to have your name removed from my list :) ) is the amount of time and effort I have spent on this speaking with and emailing district employees and board members to ensure they fully understand this issue. At board meetings a person is given 3 minutes to make a point and it's kind of hard to say much happy "way to go" stuff, when you've spent hours researching and have just a handful of very important things to try and say. I've spent a lot of time trying to stay on point and not just tear down bridges. I believe I have achieved that behind the scenes, but there's probably a ton of people that having only read the newspapers, heard me at board meetings, heard gossip around the district, and even just these emails, don't realize the full extent of my efforts to keep a positive relationship with people. This is partly because I don't ever want to be seen like I'm bragging or touting my efforts because even though I've spent hundreds of hours on this, I could not ever say I've achieved any of this alone. Those of you that have taken up the cause and written letters and made phone calls and supported this movement in other ways have helped push this issue to the forefront and I especially thank you for your help.
I know at the beginning of the school year I suggested that you thank your teachers if they were using traditional math in the classroom. Many of you have signed onto the petition since then and I would encourage you to thank your children's teachers from this past year for their efforts.
Media
Here's a recap of stories in the news this last week:
Survey finds most approve district bond
http://www.heraldextra.com/content/view/181187/3/
Residents say Alpine [school district] survey is skewed
http://www.heraldextra.com/content/view/181845/3
P.G. joins Orem in study of Alpine district split
http://www.heraldextra.com/content/view/181276/4/
Cedar Hills leaders mull uniting N. county cities
http://deseretnews.com/dn/view/0,1249,635213779,00.html
Lindon joins Orem in district inquiry
http://www.heraldextra.com/content/view/180426/3/
Alpine District recognized for meeting students' needs (I can't argue there's a lot of good programs in ASD...besides the math)
http://deseretnews.com/dn/view/0,1249,635211736,00.html
School Districts Struggle With New Legislation (regarding HB77)
http://kutv.com/topstories/local_story_150213553.html
Development for Alpine charter school challenged
http://www.heraldextra.com/content/view/182247/
Orem Petitions
For those of you getting signatures for Orem's petition, please send an email to Beau Sorenson (sorro at byu dot edu) and let him know you are getting signatures so he can stay in touch with you and request your pages before the deadline. As you finish each page, please send him an email that you have a full page done.
For more information on those seeking to set up the Orem School District and to watch the video Dennis Lisonbee produced, go to www.oremschooldistrict.org.
International Perspective on Math
Oak, Hi, I've been on your list now for a while and have been following the math issue. Fortunately for me and my children, I was able to get them into a charter school. Now I do not have to deal with any of the school boards. I work for a software company in Draper. Our headquarters is in Oslo, Norway. They flew all the engineers from around the world for a big conference in Oslo. During this conference, our CEO held up a Norwegian newspaper and showed us an article. In this article it stated that the demand for math experts is increasing at an extremely fast rate. Top dollar is being paid for these types of people. This article dealt with the whole world, not just Norway. In fact our company is actively looking for people with PHDs in math. After listening and reading about investigations, there is a very slim chance that someone who goes through that program would go on to get a PHD in math. Even if they were to do that, they would have to spend a few semesters to catch-up to everyone else. If our public schools keep lowering the requirements on our children, they will not be able to compete in any marketplace. The better educated of Europe and Asia would get a majority of the white-collar jobs while the lower paid Indians, Chinese, and Vietnamese people would get almost all the manufacturing jobs. That does not leave very much for America. Keep up the good fight.
I have one more thing to add. At the end of the conference some of our engineers who have advanced degrees in mathematics gave an analysis of some common peer-to-peer networks such as Kazaa, BearShare, and Napster. What was being analyzed was how effective these networks would be if a certain percentage of the computers were enemy computers. An enemy computer would do things such as not give information when it was requested, give false information, ask for the same information over and over again, and so on. Given how these networks operate, these engineers were able to come up with a formula that would show how effective such networks were in getting requested data to a user. They were then able to design a new type of network protocol and mathematically prove and show that the new network protocol was much more resistant to attacks and more effective at getting the correct data to its intended recipient. These weren't simple formulas like trying to figure out a side of a triangle or the circumference of a circle. These formulas were complex and not taught at a university. They were discovered after careful analysis and lots of testing.
Just one more way in which math is extremely important.
-Aaron Aldous
Lawmakers for Charter Schools
I received an email while I was away that I considered including here but it was long and I'm already making this update lengthy, but it basically listed a few pro-school choice legislators that have primary runoffs on June 27th that need your support at the election. Here are their names and districts:
Representative Jim Ferrin (District 58 - Lindon and Orem)
Representative Peggy Wallace (District 42 - West Jordan)
Senator Dave Thomas (District 18 - Ogden and South Weber)
Carl Wimmer (District 52 - Riverton, Herriman)
Birch Beer part 2 (Off-topic)
Having just returned from Pennsylvania on a vacation trip, I can now definitively state that red birch beer is better than white/clear. I just thought you'd like to know. :)
Weekly Comic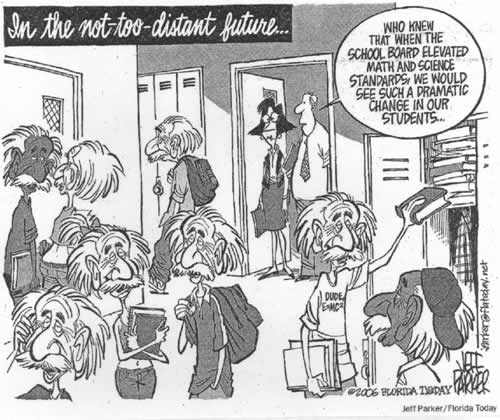 Archive: http://www.oaknorton.com/weaponsofmathdestruction.cfm
Till next week,
Oak Norton