Weekly Math Updates
February 24, 2006
Contents:

Biggest News Ever (so far)
Comments
Another Press Article
The Turkey Problem
School Board Seats and Meeting
Opting Out of Math in ASD
Biggest News of the Week:
Oh yeah, we're taking this fight up a notch now. We've got our own cartoon. With a little help from some petition signers we're hoping to have a weekly comic to keep this email fresh and exciting. If you want to view the archive at any time (including a comic or two you haven't seen), visit this page: http://www.oaknorton.com/weaponsofmathdestruction.cfm
I'd like to thank this week's contributor Bob Bonham for the awesome drawing.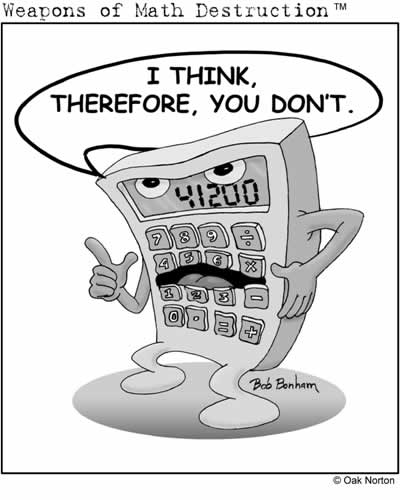 Comments of the Week:
1) This one is from a UVSC teacher regarding the failure of Investigations and any other program that let's children use calculators in early grades (and inspired this week's comic). ASD scored below national average at every grade level for computation skills.
"I wish I had a dime for every time I complained to Foothill teachers about the lack of computation in the curriculum and got the reply, "Well, when you think about it, they'll always have a calculator." Using that logic, they'll always have books on tape, too, so why teach them to read? And computers have spell-checkers, so it looks like spelling can be stricken from the curriculum, too. In fact, pretty soon we won't need teachers at all. Just day-care providers paid by the state."
2) This comment is from a parent that taught math in Alpine school district for 14 years.
"Mr. Norton, The pilot test for Investigations Math was run at the elementary school where I taught third grade. As a teacher I was appalled. Instead of doing math, my students were playing with plastic monsters and coloring pictures. They did not know simple math facts and had difficulty writing numbers. I had enough. I illegally photocopied, at my own expense, an out of print math text book and distributed it to my class because I felt it was in the best interest of my students. My class excelled in math, above the other third grade classes. The next year I transferred to teach at a very traditional school that had excelled for many years by using traditional teaching methodology. My own children will go to Charter schools. There are now 10 charters in Alpine, surely you'd think the district would get the message! THANK YOU FOR YOUR OUTSTANDING EFFORTS! "
Press Article:
Salt Lake Tribune: Battle over math teaching spreads
Alpine District dispute: The argument about 'silly' instructions spawns new schools, triggers legislation
The Turkey Problem:
This is one of the clearest descriptions of why fuzzy math has problems. Be sure to read through the Turkey problem.
http://www.dartreview.com/issues/1.13.99/nmap.html
School Board Seats and Meeting:
We're still hoping that some of you can run or let us know of good candidates for the school board to support in the fall elections. We have one person that has responded with willingness to run so far. If you feel you can spend 5-10 hours a week on the school board to help reform the system, please let us know so we can help you.
Second, I typically go to the monthly board meetings at the district office, but there is a secondary meeting on the 4th Tuesday of each month that is held in a local school somewhere in the district. This Tuesday, the 28th, the meeting is being held at Highland Elementary at 6 PM. Highland is where my children go and I have had conversations with teachers and the principal on several occasions. Mr. Hodson is a pretty open minded principal but follows the recommendations of his teachers. If you have children in this school it would be a great event to attend and share your feelings about desiring to switch to a program like Saxon or something with more solid content.
Opting Out of Math in ASD:
If any of you want to take your child out of being graded in math at school because you're teaching at home, you can do it by following this procedure a petition signer emailed me after reading last week's update:
"Regarding the family that sent you the e-mail, you might want to let them know that they in fact, can opt-out of the grading for math. They only need to fill out a form (from the ASD website) that will say that they will be teaching homeschool part-time (since math is taught at home), then she can still participate in the math class but doesn't need to do the homework or be graded."
Till next week,
Oak Norton
www.oaknorton.com/mathpetition.cfm