Weekly Math Updates
November 10, 2005
Sign the petition to get rid of Investigations, Connected, and Interactive math at: http://www.oaknorton.com/mathpetition.cfm
Hi all,
I think you're going to like this week's update...or rather feel terrible about it confirming our feelings about this program. I attended the school board meeting Tuesday night and before they allowed public comments, they read a statement which was the result of last month's effort at the board meeting which was to reassure teachers that they may teach without fear of losing their job. The statement says teachers can teach anywhere on the spectrum of Investigations math to traditional math that they feel they need to to meet the student's needs. I've posted their statement on my website at the bottom of the page that tells my story of the board meeting events. I think they read their statement to take the wind out of my sails before I got up but I am quite sure they weren't prepared to receive what I gave them since they constantly tout how great the district is doing grade-wise. Here's a link and a teaser graph to show what I asked them to explain. Over the last four years, the only constant in their grades have been an ever increasing failing rate at ALL grade levels. Note that four years ago, all grades had level one mastery below 5% and now they range from 7-43% after the influence of these horrible programs. Get the whole story and see graphs by grade on this must read page to see what's really happening in Alpine School District.
http://www.oaknorton.com/imathresults26.cfm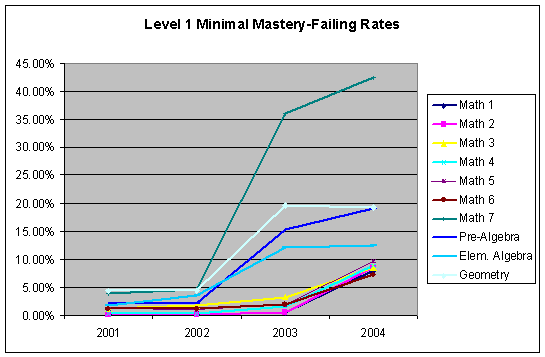 PARENT COMMENT OF THE WEEK
My daughter is one of the first group of kids to enter Jr high after having been in this math program. Needless to say she failed math last year and is now repeating the same math class. Thats productive right?? When I went in to talk with the math teacher I told her I was very frustrated with this Investigations math program. She informed me that most of her students had also failed her math class. She told me that they are coming into regular math not knowing fractions, how to tell time or their multiplication facts. (she no longer works at Oak Canyon Jr High, after one year of teaching math) I left her and went to talk to the assistant principle, he informed me that they would be talking to the teacher to have her change her grading process, helping to make it so not as many students would fail. That solves the problem again RIGHT???
Elaine R.
SELF-SERVING WARNING
Day Job
Also, for those of you that wonder what in the world I do and if I just have lots of free time to fight Investigations math, I have a regular day job with the personal injury lawfirm Gregory & Swapp. I'm an accountant that has a love for education and it's kind of a long story as to why I'm fighting the math problem, but to sum it up, I see Utah heading toward a future where our children can't do high-tech work because they can't do math. There's 54,000 kids in Alpine School District alone and every year we're dumbing them down. So by day I'm a CPA, by night I program and fight. How's that for rhyming? :)
Anyway, if you know someone that's been in a car accident or else had some type of product liability issue, please have them give us a call and tell them to mention my name for that "executive" treatment. :) Our website is www.gregoryswapp.com and you may also know us as the "One Call, That's All" firm.
Till next week,
Oak