Weekly Math Updates
August 2, 2006
Contents:
Orem School District Update
Site Update
NCTM Focal Points
ASD's Math Choice Next Year
NEA Meeting Results (non-math)
Other Media
Weekly Comic
Orem School District Update
Hi all,
I want to start off thanking those of you that have written the Orem city council and mayor. It appears Alpine school district is telling Orem nobody is upset with ASD. Seriously, now's the time to write your letter if you've had a negative experience dealing with Alpine district. It's OK if it's short, just share your story one more time and flood the city council with your experiences. I also want to emphasize that you especially share any non-math stories. Any experience you've had with ASD is going to play into the city council's decision.
There is also a very real need for help in Orem to get signatures on their petition in case the city council doesn't vote to put this on the election ballot this November. Just the act of getting it on the ballot will cause people in ASD to benefit from the panic in the district office. Their power hold days may be over. They will start to concede and cooperate in a way they've never had to.
Here's a link to the Provo Daily Herald article again describing the council's position in the last paragraph.
http://www.heraldextra.com/content/view/187937/4/
The meeting this Saturday in Orem is a must-attend if you're an Orem resident and if any of you outside of Orem feel the desire to carry some of the load so we benefit from a smaller district, please attend and help out. Here's the info again: August 5th, 9 AM
First Choice Home Health
Conference Room
1365 W 1250 S
Orem, UT 84057
Site Update
If you didn't read my letter to the city council and mayor you may have missed seeing this new page on my site. I strongly encourage you to share this with your neighbors and local schools. Let the principals and teachers know that we expect them to use proven methods to teach our children. Discovery learning has only a limited role in that process.
http://www.oaknorton.com/imathresults34.cfm
NCTM Focal Points
Something really great is coming this fall and it's not to a theater near you. It appears that the NCTM has accepted some major input from mathematicians on their committee and their standards are being revised in a way that emphasizes something called "focal points," or in other words "CONTENT MASTERY." What this means is changes are coming that will de-emphasize discovery learning, and promote proper foundational principles. Read more about it in the article just below and note that Drs. Milgram and Schmid are listed on the page and are two professors I have quoted from as being involved fighting discovery learning as a curriculum for a long time. This is good news and states will have to re-examine their standards under these changes.
http://www.maa.org/common-ground/cg-report2005.html
ASD's Math Choice Next Year
I got an email after last week's update asking what's up with ASD's math decision they're "giving us" next year and when it takes effect and will things ever change.
No one really knows these answers 100%, but what I think is happening is this fall ASD will set up a panel of people to examine various math programs and then ask them to narrow all the choices down to two programs, one standards-based (clever name for Investigations math) and one traditional-based. During the Winter/Spring time frame each community school will then have some type of vote to choose the program their school will start using the following school year.
Will things change? Yes, but as in everything, it will take effort. I will prepare a flyer for everyone to pass out canvasing your community, emphasizing the need for choosing the traditional program (hopefully it's a good one but it will certainly be better than Investigations).
I originally wrote a more detailed report of this on this page of the site if you want to read more: Norton Plan
NEA Meeting Results (non-math)
Do you remember a few weeks ago when I sent out a warning from the AFA (American Family Association) that the NEA was going to promote legal rights for homosexuality in some way to teachers? The immediate public outcry caused the NEA to change the paragraph to a more mild version. I had several emails exchanged with Pat Rusk, president of the UEA, where she took the AFA to task for misinterpreting and putting their own spin on the NEA proposal. Pat explained it was only a small group of gay educators trying to push for that change and it wouldn't have passed anyway. However, at the NEA convention, Reg Weaver, president of the NEA, took the time in his speech to 9,000 delegates to attack the AFA.
Now that the meeting is over, it looks like it turned out worse in the end than it started with. The following indented information is from an AFA email I received. I especially encourage you to read the first link on why public education is in the mess it's in because it's a brief look at the history of secular humanism and specifically how the NEA is actively engaged in removing God and Christianity from the minds of our children. I'm NOT saying this is happening in every classroom, especially here in Utah, but it is most certainly happening on a wide-spread level across the country and being pushed by the NEA through their channels.
AFA Email Snippet:

To understand why the NEA is more interested in pushing a liberal social agenda than making sure our children can read, write and do math—and why public education is in the mess it is in-please read some background by ***clicking here***.

Here are a few of the actions which the NEA approved at their meeting in Orlando.

NEA overwhelmingly passed a resolution (B 10) endorsing gay marriages and adoptions in states where they're legal. Click here and read the first three paragraphs.

NEA recommended that gay, lesbian, bisexual, and transgender issues be required content for teacher credentialing. (Teachers would be forced to undergo sensitivity training concerning homosexuality before they could be certified to teach.) Here is the wording of the resolution: "That NEA advocate for the inclusion of Gay, Lesbian, Bisexual, and Transgender issues in the National Council for the Accreditation of Teacher Education (NCATE) teacher education program review process." NEA has already contacted NCATE about this.

NEA voted to replace the word "tolerance" toward homosexuality with "acceptance and respect" in union policies. The author of New Business Item 52 used this rationale: "We should teach acceptance and respect, not tolerance, of those who are different from us wherever appropriate." (The NEA is saying that "tolerance" of the homosexual lifestyle isn't enough, that homosexuality must be accepted and respected.) Click Here for more information.
NEA refused to pass an amendment (I 24) designed to protect students against sexual misconduct by teachers. The amendment read "To protect the rights of all students, the Association believes sexual contact between education professionals and minor students is unacceptable." The NEA refused to pass the amendment and referred it back to the Resolutions Committee. Many feel that the NEA refused to pass the amendment in order to protect teachers who have sex with students. Click Here and go to the bottom of page 3. Read the section "Resolution I-24 Floor Discussion Vote
Remember the old saying, first we tolerate, then we embrace? The gay lobby has been patient in achieving one small victory at a time and after getting their feet in the door with the NEA have made big inroads supplanting proper education with indoctrination in a self-destructive lifestyle.
California, notoriously one of the most pro-gay states, has a bill that passed the House mandating teaching the gay lifestyle in the classroom. They only await the senate vote to confirm the bill and all children will be indoctrinated in the gay lifestyle.
http://www.family.org/cforum/news/a0041003.cfm
Other Media
Burned Out Teachers Problematic
http://deseretnews.com/dn/view/0,1249,640198469,00.html
Weekly Comic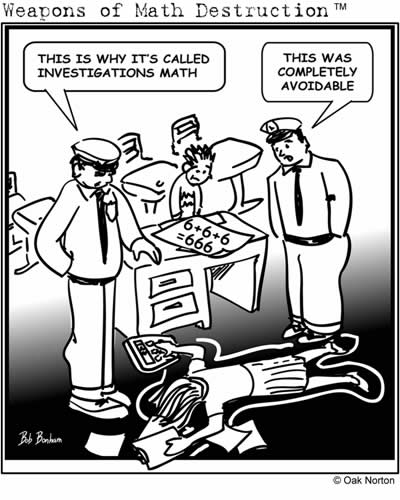 Archive: http://www.oaknorton.com/weaponsofmathdestruction.cfm
Till next week,
Oak Norton