Weekly Math Updates
August 23, 2006
Contents:
Orem City Vote
Media Articles
The Simpsons on Math?
Weekly Comic
Orem City Vote
Hi all,
Of course the big news is the vote Tuesday night in Orem. Unfortunately for those interested in a split, it was voted down. Orem city council members had two people with clear conflicts of interest that didn't recuse themselves from the vote and voted to not split so the vote came out 4-3 against putting the measure on the ballot for the people to decide. On the council, Mark Seastrand is related to Gary Seastrand the assistant superintendent of ASD. Stephen Sandstrom is an architect that designs new schools for ASD. For residents of Orem, these would be two important names to remember at election time. The other two that voted against the split were Les Campbell and Shiree Thurston.
In the Provo Herald article, I think board member Guy Fugal made the best case for a split when he said, "I know that the district has some problems, but we are willing to listen to residents on what they feel we are doing wrong..." Can anyone that has actually visited the board actually agree with this statement? Do they listen? Sure. Do they act? No way. I want a board that can turn on a dime when they recognize they've got a big problem. The combination of ASD's size and leadership characteristics are the two major stumbling-blocks to progress. (I think Guy is the only board member that actually appeared to be asleep during one of my presentations to the board)
Orem, Pleasant Grove vote against district split
http://www.heraldextra.com/content/view/190711/
Media Articles
I'm going to just make a couple comments on the media. There's a lot happening right now all over the state but especially in our district. A lot of eyes have been watching Orem and will continue to, in order to see how things play out. One of Alpine District's favorite buzz phrases over the split issue is, "now is not the time." As some involved in the split have said, "if not now, then when?" If people only did things when they were convenient, no progress would be made. We have to be wise, and we have to move when opportunities present themselves. Super-districts are not the path to parental involvement. Last Winter, I was invited by the state director of curriculum, Brett Moulding, to come to his office and give him ideas on how to get parents involved in their children's education. He was surprised how involved I was and wanted my take on it. My reply was simple, put in Investigations math and you'll have all the involvement you can handle. :) But seriously, if you create super-districts where parental concerns have no influence, you'll have no involvement. The only way to involve parents is to empower them and make them feel like their voice counts. The powers "who-must-not-be-named" in Alpine have ignored parents and our concerns for years and now they find a fine little rebellion going on from "just a couple people and a handful of malcontents" (guess ASD understated that one). GO MALCONTENTS!!!
So here's the news you ought to know. Utah in its wisdom has now mandated an extra year of math education for graduation requirements. This unfortunately could have been avoided if they had just shored up basic math skills in the early grades and would teach to higher standards. I suppose it's another swing of the pendulum. So on to a couple articles this week.
Looks like charter schools have thrown a wrench into ASD's system. Not by taking them away, but by ASD not knowing how many they needed to hire.
Alpine district desperate for more teachers
http://www.heraldextra.com/content/view/190386
After the Orem meeting last week where the feasibility studies were presented, the press left the meeting after the first presentation and ran a story concluding the split wasn't feasible. Then the next day they ran a counter story regarding the second study presented which concluded the study was indeed feasible. Here's the scoop on the difference.
Second study more hopeful for potential district split
http://www.heraldextra.com/content/view/190427
Here's a clip from the article:
Dennis Lisonbee of the group Friends of Orem School District, said he couldn't attend the meeting but read the studies. He worries that the Alpine School District is getting too far into debt. "I don't think anybody in their right mind would want to take cities like north county and put them in half a billion dollars of debt right now. It's just not a right thing to do."

Lisonbee's wife, Laurie, who attended the meeting, took issue with a benefit of remaining in the Alpine School District that Bennett listed in his report. He said the district is becoming more aware of the need for autonomous decision-making by schools. "When I read that, I feel like I can hear laughter resonating throughout the city of Orem when parents read that," she said. "They are not sensitive to the needs of individuals, schools, cities and school patrons, and I really question Mike Bennett putting that into this study when that is a subjective statement that has nothing to do with the finances or the facts."
Mike Bennett was the individual that did the first study which lacked some information and he had some subjective information in his concluding remarks. The second study had better information and was more comprehensive. Read the article above for more information on it.
Crowded schools perturb Utahns
http://deseretnews.com/dn/view/0,1249,645194430,00.html
Looks like Utahn's are willing to pay a bit more to have smaller classroom sizes, but I'm not sure I buy the national average being 1-to-15.6 for teacher to students. I guess that's a lot of two teacher classrooms or maybe a teacher and a student teacher helping.
The last article was one that built up to the vote last night. Interestingly you can purchase an attractive 5x7 print of Laurie Lisonbee demonstrating for only $16 direct from this article. :)
Voting process begins this week
http://www.heraldextra.com/content/view/190639
The Simpsons on Math?
I got this link from some good folks in Washington fighting a battle parallel to ours, I'm not a Simpson's watcher, but this is pretty funny how they embed math jokes and have had a fuzzy math episode. Our weekly comic this week is partly devoted to the Washington folks as they're dealing with another fuzzy program called Core-Plus.
http://www.sciencenews.org/articles/20060610/bob8.asp
Weekly Comic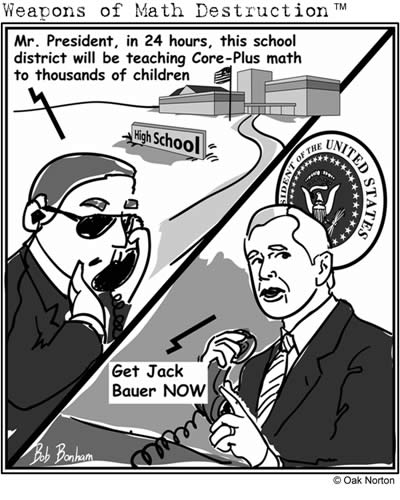 Archive: http://www.oaknorton.com/weaponsofmathdestruction.cfm
Till next week,
Oak Norton