Weekly Math Updates
January 31, 2007
Contents:
State School Board Meeting
Hi all,
This week's email is pretty direct. We need to focus on one thing and help make it happen. Yesterday I sent out an email containing a letter Mark Cluff (state school board member) sent to the other state school board members concerning splitting large school districts.
Today the state school board met and discussed it but those in favor of the motion couldn't muster a majority. Two board members were absent from the meeting. The following table shows the state school board members and where they stand. Those in the undecided category need to get emails or phone calls lobbying them to split large districts and need to have expressed to them the roadblocks large districts pose to education.
For Mark's Proposal
Against Mark's Proposal
Undecided/Unknown
Tom Gregory
Janet Cannon
Bill Colbert
Richard Moss
Mark Cluff
Kim Burningham

Don't waste time contacting these people

Denis Morrell
Teresa Thayre
Greg Haws

Randall Mackay (absent from meeting)
Richard Sadler (absent from meeting)
Deborah Roberts
Laurel Brown
Michael Jensen
Dixie Allen
You can get their email addresses and phone numbers from this page:
http://www.usoe.k12.ut.us/board/1members.htm
There are those in the legislature that worry about giving the state school board the authority to do anything such as split a district apart, but when you start looking at this type of event, if a local school district can't figure out how to split themselves, or if the best plan of action is to take two districts and turn them into three, who is going to do that but the state school board? The legislature isn't going to touch it and they'll look to set up a committee or something so it only makes sense to let the state board handle it.
If you missed reading Mark's letter, here it is again:
I am concerned about the direction of the laws over the last two years related to school district splitting. Not once has the issue come before the people for a vote. And since I live in the district where the most action is happening, I propose that the Board take a position and be more active on this issue. I believe we may even want to create a new rule to govern this issue. We should exercise our constitutional right to general control of public education.

I propose the following process:

Create a law that no school district may be greater than 30,000 students.
State Office of Education reviews the student enrollment for each district and reports to the Board the districts that are over 30,000 students at our November meeting and notify the districts and cities involved that they need to split.
School districts and cities will develop a plan to split the district or districts into smaller districts of under 25,000 students.
If the school districts and cities cannot come up with a plan within six months, then the Board will generate different plans on how to split the district with input from affected parties.
The Board will review the plans and vote for one of them if needed.
When a plan is approved, a transition team will be put in place and begin organizing the new district starting with the creation of a new school board.

I truly believe that many of the charter schools and other issues affecting our schools are because of school districts that are too large. 70 % of the nations school districts are less than 2500 students and less then 2 % are larger than 25,000 students. From what I have read, the larger the district, the larger the problems at meeting the needs of all the students. My board district covers two school districts, one with 4200 students and one with 56,000 students and I can see the difference between them, both in the way they are run and the feelings of the citizens. From all I have read, I believe that 15,000 to 20,000 students is the best size for a school district.

Thank you for your consideration.

Mark Cluff
District 12
In God We Trust Donations
I am very grateful for those of you that have contributed to the poster project. We have over $600 collected and need less than $900 to put these posters up in every single classroom of the district. Please contribute just a few dollars. $25 will pay for all the posters for one school in the district but even $5-10 will help us reach the goal. I know one person asked if their kids could go out and collect from neighbors for this. YES. Please tell people about this and lets put these posters in every classroom.
http://www.oaknorton.com/donationpage.cfm
Weekly Comic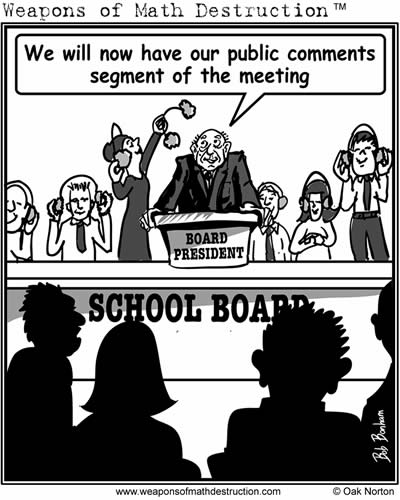 Archive: http://www.weaponsofmathdestruction.com
Till next week,
Oak Norton