Weekly Math Updates
January 10, 2007
Contents:
Hi all,
There's some good media articles this week. I've put a few clips below but the whole articles are very informative.
New Board President
If you didn't attend the board meeting (and I know most of you didn't :)), Debbie Taylor was elected as the Board President and Andrea Forsyth as the Vice-president. Tim Osborn was sworn in as well and we wish him a productive four-year term.
State Standards Committee
The committee met and my contacts are cautiously optimistic that Utah really will get world class standards. See the first media article below for a bit of information from the group.
In God We Trust Donations
It seems every time I send out an email and mention the poster project, I get 1-2 people that donate so I'm encouraged to keep going for another 20-30 emails to get this done. :) Think how meaningful it will be to have over 50,000 children going through our school district and every day having the chance to see "In God We Trust" and a vital reminder that we are a Republic and not a Democracy. Please, even if you can only donate $5-10, please donate and help make this happen.
http://www.oaknorton.com/donationpage.cfm
Media Articles
Due date set for goals in math by Nicole Strickler
http://www.sltrib.com/news/ci_4946763 (cached)
"The effort to revisit how Utah students are taught math was sparked largely by the "Investigations" curriculum adopted by the Alpine School District in 2000. ...

In November, the Utah State Office of Education pulled "Investigations" from its list of approved primary textbooks, a signal that districts should supplement it with other material. ...

Although the core had been revised in 2002 and wasn't due for a revamp until 2012, parents, math professors and legislators were concerned the wrong concepts were being emphasized. ...

'The [state school] board has said they want Utah to have world-class standards and everybody was committed to that idea.'"
Calls abound for smaller class sizes by Nicole Strickler
http://www.sltrib.com/news/ci_4966133
"Sen. Howard Stephenson, R-Draper, co-chairman of the Joint Public Education Appropriations Subcommittee, also wants to enforce how districts spend class-size reduction money. He'll propose a bill that will withhold funds from districts that don't get their classroom numbers down.
'Right now we're spending $74.4 million for class-size reduction with virtually no strings attached,' he said. 'We've got some kindergarten classes with more than 30 kids and the district is getting its share of this money. That's a scandal.' "
The price of substitution: Low pay may be a reason for fewer qualified substitutes by Kate McNeil
http://www.heraldextra.com/content/view/205892/3/
Weekly Comic (this is a true story folks---sad but true)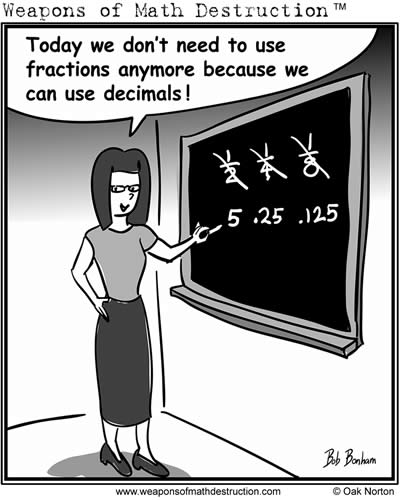 Archive: http://www.weaponsofmathdestruction.com
Till next week,
Oak Norton