Weekly Math Updates
January 17, 2007
Contents:
Legislature in Session

Bills of Interest

Influencing Your Legislator

How a Bill Becomes Law in Utah

State Math Standards Committee

In God We Trust Donations

Weekly Comic
Legislature in Session
Hi all,
The legislature opened this week and it looks like there's a lot on the docket this session for Utah and education issues. There are several bills that need your attention. I've also received a couple of excellent emails from the Utah Eagle Forum explaining how bills move through the legislature and also how to contact your representative. I am going to include the highlights below as a reference for you to be more successful in influencing your legislators. This is the main website for the legislature.
http://www.utah.gov/government/legislative.html
Bills of Interest
The state legislature has done a pretty nice job organizing bills being introduced in the congress. This website will let you pull up all bills introduced in any committee of the congress (ex. click the dropdown and select House Education Committee):
http://www.le.state.ut.us/asp/billsintro/committeebills.asp
Being that this is the first week of the session, not all bills have been introduced or posted yet and there are some good ones coming down the pike that we will need to show our support for. Several of these bills have the attention of the Small Districts Coalition and Tad Wimmer, a petition signer and member of that coalition, has written me concerning a few of them. Their website is www.smalldistricts.com should you wish to visit it and sign up for their emails. This is Tad's report:
Support
• SB 30 Creation of New School District Amendments (Sen. C. Walker, R. Cottonwood Heights) Amends the language of the law passed last year (HB-77) to provide for division of assets and liabilities, deal with isolated communities ( e.g. Cottonwood High School in Granite School District and Murray City ) and districts that cross County Lines (Draper cit crosses the Utah Co. line), etc.
• HB 58 New School District Leeway Retention (Rep. B. Daw R. Orem) Allows the newly created district to continue to levy the Voted and Board Leeway Levy property taxes.

Oppose
• HB 75 Procedure for Dividing School Districts (Rep. S. Mascaro, R. West Jordan) Requires a district wide vote (and other requirements) before a district split can occur. Reason for opposition is that developing areas could hold the built out cities vassal and create a taxation without representation situation. (Oak: asking about this, the scenerio they are worried about is where outlaying areas refuse a split and override the desires of established areas so that the established areas continue to have to pay for all that growth when they have no part in it. This would be like Eagle Mountain telling Orem they can't split off and have to pay for their growth when Orem is in decline and wants to split off and form their own district.)

Watching
• HB 74 School Impact Fees (Rep. S. Mascaro, R. West Jordan) Authorizes
a school district, after a district wide vote, to impose impact fees to raise revenue for school constructions.
Although not specifically related to dividing school districts, we are also closely watching Sen P. Jones' SB-133 Local School Board Public Hearing Requirements and several bills related to class size.
One other critical bill I need to mention is one being sponsored by Stephen Sandstrom whom I opposed in the election, but has stepped up to the plate on a critical item. It concerns the SPP (Security and Prosperity Partnership). If you don't know what this is, it's the first serious move toward the United States losing our soverignty and becoming a supernational country with Canada and Mexico. This is a serious item. George Bush bypassed the authority of the congress and signed an agreement with the leaders of these two countries and right now they are working on plans to build a super highway from Mexico to Canada through Kansas City, which will become a port. This means goods received at a dock in Mexico can be put on a truck and shipped to our heartland before it's ever inspected. Already leadership rosters are being drafted for this body that will make our country and citizens subserviant to the authority of the new body. For additional information about this serious issue, check out this web site and then contact your legislators and ask them to support HJR 7.
http://www.jbs.org/nau
Here's a direct link to this bill:
http://www.le.state.ut.us/~2007/bills/hbillint/hjr007.htm
Influencing Your Legislator
These are some excellent tips I received from the Utah Eagle Forum, particularly the bit about sending emails and putting your message on the subject line, then you can type a sentence or two in the email saying what the bill actually is. Keep them short. I know our legislators have next to no free time and they get bombarded by constituents during this period of time but it is vital that you ACTUALLY SEND THEM A MESSAGE and let them know how you want them to vote. Others are going to oppose bills that are important to you and you need to ensure your voice and opinion is heard..
There are several ways to make "Contact" with your legislators:

Traditional Letters -- we never use them during the session because they take too long.
E-mails -- The fastest way to deliver your thoughts and opinions, but some legislators don't read their e-mails, or they get so many they just don't have time. That is why is it important that you deliver the crux of your message in the Subject line (example: Please vote "YES on HB-42!!!) Send e-mails to individual legislators -- they don't pay attention to the e-mails sent to a whole list of people.
Phone calls to the House or Senate -- This is a good way to make contact during the daytime because switchboard operators take messages (up to 5 during one call) and they are then placed on the Legislator's desks. The problem is, it is sometimes difficult to get through

The House phone is 801-538-1029
The Senate phone is 801-538-1035

Phone calls to individual Legislators at home evenings/weekends -- this is a good way to have a one-on-one conversation with Legislators. Most legislators welcome these conversations, but please keep in mind they have spent a long day at the Capitol -- be EXTRA courteous, come to the point, keep the conversation as short as possible, and ALWAYS thank them for their time and consideration.
Faxes to the House or Senate -- they are good because they also get placed on the Legislator's desks. Each fax must be to one individual legislator at a time. If you send one fax with multiple names on it, IT WILL BE DISCARDED instead of being delivered.

House Fax Number 801-326-1544
Senate Fax Number 801-326-1475

GO TO THE CAPITOL AND SEND NOTES IN -- This is the very best way to contact legislators because they know you care enough about the issue to BE THERE IN PERSON. Your notes can just be a message, you can ask them to call your cell phone, or you can ask them to meet you outside the door for a face-to-face conversation.

Interactive Map to LEARN WHO YOUR Representative IS:

http://www.le.state.ut.us/house/DistrictInfo/NewMaps/State.htm

Then find Contact info on the Utah House Roster:

http://www.le.state.ut.us/house/members2005/membertable1add.asp

Interactive Map to LEARN WHO YOUR Senator IS:

http://se15.utahsenate.org/perl/spage/distmapal.pl

Then find contact info on the Utah Senate Roster:
How a Bill Becomes Law in Utah
I also received this short course in Utah lawmaking which I thought I'd post for you as well.
Here is the basic course on how a bill becomes law:

If it originates in the House, it is numbered with:

HB = House Bill
HR = House Resolution
HJR = House Joint Resolution
HCR = House Concurrent Resolution

It is introduced in the House and it goes to the House rules committee for prioritizing and assignment to a standing House committee.

The assigned Committee hears testimony on the bill and votes to pass it out favorably or to table it or to hold it.

If the bill passes out favorably, it goes to the House floor. Every bill must be "read" 3 times before a final vote. The introduction of the bill counts as one, when it comes out of Committee it is placed on the 2nd reading calendar and it is "read" again and placed on the 3rd reading calendar.

Once a bill is on the 3rd reading calendar, 3 things can happen: 1-Negative vote and it is defeated, 2-Positive vote and it is sent to the Senate to repeat the entire process in the Senate, or 3-"Circled" which means it is placed on hold indefinitely.

The same thing happens in the Senate. Bills are numbered with SB, SR, SCR, SJR when they originate in the Senate

Senate bills must pass the Senate first and then the House.

Once a bill has passed in BOTH houses it goes to the Governor. He can either sign it into law or veto it.

A vetoed bill can still become law IF, the legislature holds a Veto Override Session in May and votes for the bill with a 2/3 majority.
State Math Standards Committee
I'm sure many of you are wondering who made the list of people that are going to re-write our state standards. This list is comprised of a variety of people, a simple majority of which were on the core review committee that said Utah didn't need to change our standards. It appears, however, that we have
Russell Thompson, Chair, Department of Mathematics and Statistics, USU
Damon Bahr, Department of Teacher Education, BYU
Jim Cangelosi, Department of Mathematics and Statistics, USU
Richard Cutler, Department of Mathematics and Statistics, USU
Lisa Jasenback, Davis School District
Barbara Kuehl, Jordan School District
Marti Larkin, Department of Mathematics, SUU
Nicole Paulson, USOE
Gina Post, Department of Teaching and Learning, University of Utah
Lorel Preston, Department of Education, Westminster College
Blake Peterson, Department of Mathematics Education, BYU
Hugo Rossi, Department of Mathematics, University of Utah
Larry Stott, Salt Lake City School District
Dianna Suddreth, USOE
Ron Twitchell, Provo School District
David Wright, Department of Mathematics, BYU
In God We Trust Donations
We are now over $600 in collections and need less than $900 to put an "In God We Trust" poster in every classroom of every school in Alpine School District. I'm very grateful for a few of you that have made sizeable donations to help with this. Did you know that a Republic is based on the rule of law and that the constitution given to us by our founders prevents a simple majority from taking our basic rights away from us? A democracy allows the majority to rule in every situation. Right now in Alpine school district, our children (and us parents) hear time and again from the superintendent that they are trying to preserve our democracy. It's the wrong message and putting these posters in every classroom with the subtitle "The National Motto of the Republic of the United States of America" will teach our children to remember we are a republic no matter what school officials may misconstrue. Please donate today even if it's only a few dollars. By doing so, you're helping to preserve our freedom.
http://www.oaknorton.com/donationpage.cfm
Weekly Comic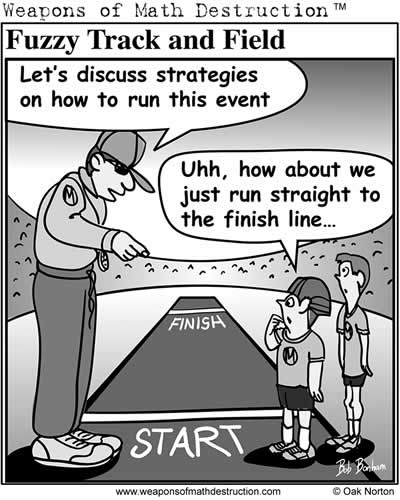 Archive: http://www.weaponsofmathdestruction.com
Till next week,
Oak Norton