Weekly Math Updates
August 16, 2006
Contents:
Quote of the Day
The U.N. Says Homeschooling Criminal--Constitution Threatened
Orem Presentation and Vote
School Community Councils
Weekly Comic
Hi all,
School's about to start and you may be wondering what's going to happen this year with your children's math. The answer to that is it's up to your local teacher and principal. In a little while the board will choose a group to begin the curriculum selection process for the following school year's math program, but it is really up to the local teachers if they are going to change Investigations. If you want change you've got to make it happen. Please send word to them that you hope they will incorporate more quality math assignments and cover traditional math techniques rather than so much discovery learning. Point them to this page on Project Follow-Through: http://www.oaknorton.com/imathresults34.cfm
Quote of the Day
The unfortunate truth about public education and why we need stronger programs to break our children out of mediocrity.
"We want one class to have a liberal education. We want another class, a very much larger class of necessity, to forego the privilege of a liberal education and fit themselves to perform specific difficult manual tasks."
--President Woodrow Wilson
The U.N. Says Homeschooling Criminal--Constitution Threatened
This particular issue is quite upsetting.
http://www.wnd.com/news/article.asp?ARTICLE_ID=51484
"A couple in Brussels has been threatened with criminal neglect for schooling their children at home, and a U.S. expert on the issue told WorldNetDaily the case actually could pose a threat to the sovereignty of the U.S. Constitution."
"...any state law relating to child custody, the family, education, adoption, child pornography and dozens of other issues could be nullified in an instant, the group said."
Orem Presentation and Vote
Tomorrow night (Thursday 17th), the feasibility study will be presented to the City Council at 7:30 pm in the City Council Chambers (56 N State). The public is invited to attend.
The City Council will make its decision whether or not to place the school district question on the ballot at its Tuesday, August 22nd meeting. That meeting starts at 6 pm and will also be held in the City Council Chambers.
Here's a recent article on how big a decision this is for Orem:
http://www.heraldextra.com/index.php?option=com_content&task=view&id=189805&Itemid=3
School Community Councils
If you want to have an influence in your local school no matter where you live in Utah, you should consider running for your local school's community council. I got myself elected last year to Highland Elementary and it's a very low time commitment position where you can help influence decisions at the school. If you plan to run when school starts, please let me know so I can compile a list of candidates at each school to promote to this list to help you get elected. Email me your name and the school you'll be running at.
For more information on what this position entails, here's the section of state law governing community councils including the powers a community council has. From the way it reads it almost sounds like you can rule the roost like a school board does, but really the role is more advisory. Still, it's a great way to be involved in local issues and you probably only meet four times during the school year.
http://www.le.state.ut.us/~code/TITLE53A/htm/53A02009.htm
Weekly Comic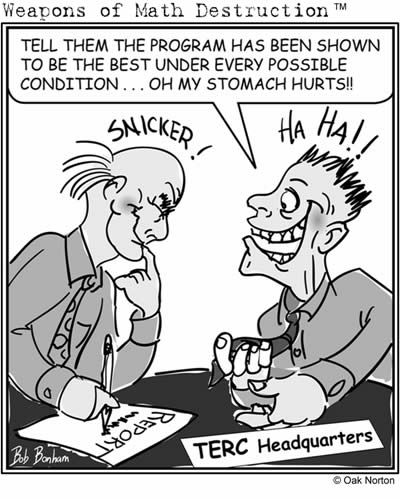 Archive: http://www.oaknorton.com/weaponsofmathdestruction.cfm
Till next week,
Oak Norton