Weekly Math Updates
May 17, 2006
Contents:

Orem Update
NY Times Article
**Deseret News (MUST READ) - Utah to study states' math programs
Provo Herald Article-Math Decision Delayed
Provo Herald Article-Petition in Alpine asks State to Void Charter (Mountainville Academy)
Saxon Success
Math Movie (MUST SEE)
Weekly Comic
Orem Update
Hi all,
This week has a few good press articles you should look at with one really important one in the Deseret News on the statewide math education issues. I've put a few clips from the articles below but you should read them in their entirety to get the full story and not just my biased snips.
Last week I mentioned the group of Orem residents trying to get a feasibility study done to consider leaving ASD (Alpine School District for you newbies). I still haven't been able to find out who's behind their petition and if any of you know, please send me an email. One Orem resident (that can't locate the group either) wrote me this yesterday:
"I talked to the city recorder and the issue of a feasibility study for an Orem School District will be discussed at a city council meeting on TUESDAY, MAY 23 AT 6:00 PM at the Orem City Building. They will probably vote on whether to do the feasibility study that night, or possibly they will do a continuance (vote at a later date). THE MEETING WILL BE OPEN FOR PUBLIC COMMENTS. This issue is near the top of the agenda so people need to be there by 6:00 pm."
If you live in Orem, now's your big chance to influence change. Get out to your meeting next Tuesday and help pressure the city council to perform the feasibility study. If Orem starts doing the study it will most certainly help pressure ASD even further to make changes and listen to parents. One petition signer had a good conversation with his children's principal today and it appears some in ASD might be getting the idea that their customers aren't fully satisfied with the product they're producing (though honestly there's nothing that could happen that would actually get them to admit publicly that there's a problem...)
NY Times Article
Ex-University President to Lead U.S. Math Panel
"The Bush administration has named a former president of the University of Texas at Austin to lead a national panel to weigh in on the math wars playing out across the country. The politically fraught battle pits a more free-form approach to teaching math against the traditional method that emphasizes rules and formulas to solve number problems." (Oak's comments: A little update on the national fight.)
**Deseret News (MUST READ)
Utah to study states' math programs by Laura Hancock
(Oak's comments: This article is a direct result of our efforts. However, I have been informed that it appears the members of the committee to review curriculum are all math educators partial to constructivist methodology. This means the status quo will be preserved unless we bring additional pressure to bear on the state. I will have information as soon as possible on how you can help, but please read this whole article online. I've only put a couple of snips here. Keep spreading the word about what we're doing and get more people to sign the petition.)
"The mathematics curriculum in Utah's public schools will be compared with three other states' as part of a review ordered by Utah lawmakers.
The Mathematics Core Curriculum Review Committee, formed shortly after the 2006 legislative session ended in March, decided Friday to compare Utah's way of teaching math with how schools teach math in California.
Two other states' mathematics curricula also will be selected as comparisons. Those states have yet to be decided.
The question of how Utah's math curriculum compares to other states' is on a list of questions the committee will send to a "third-party" education group that will be hired to judge the strengths and weaknesses of Utah's math curriculum.
Top state education chiefs are still discussing which group to hire.
"We hope to have (the review) done in the next six months," said Brett Moulding, curriculum director for the State Office of Education.
In February, a legislative education committee discussed math standards, and some cried for reform, saying Utah's math classes should be more rigorous.
Perhaps the most rancorous debate over math education has been seen in the Alpine School District, where many parents have complained about the math programs — Investigations of Data and Space and Connected Math.
Those math programs encourage students to discover solutions to math problems through traditional and creative methods.
Critics say it downplays traditional algorithms and computation.
"Investigations" math was formerly used in California schools — but has been prohibited in favor of more traditional math programs."
Provo Herald Article
Math decision delayed by Anna Chang-Yen
"A committee that considered new math curriculums for the Provo City School District favors one with some Investigations-type content, but the decision has been postponed."
<snip>
Tyler Jarvis, a math professor at Brigham Young University, submitted a report to the district condemning Growing with Mathematics.
"There's no direct instruction whatsoever in that program," said Jarvis, committee member and president of the Rock Canyon Elementary community council. "I think it's possible to make a program that's Investigations-based that has real content, but this program failed to do that. It would present three algorithms for multiplication instead of one and claim that was teaching understanding, but at no point did it give any understanding.
The Alpine School District implemented the Investigations in Number, Data and Space program in 2000. Parents have complained that they can't understand the homework, and that their children are confused and discouraged about math. The Alpine School District contends that the program meets the state's requirements and is improving test scores. (Oak's comments: sorry all you supplementers. It's more of the same...nothing you do to help your kids understand math is causing scores to go up...it's ASD getting all the credit with their insightful use of the Investigations curriculum.)
Investigations has been cited as a reason for the boom of charter schools in the Alpine district, and is among concerns of parents who want to break away from the district and form an Orem city district."
<snip>
"David Wright, a math professor at Brigham Young University, is also concerned about Growing with Mathematics. "You would think we would have learned from Alpine," he wrote in an e-mail to the Daily Herald."
Provo Herald Article
Petition in Alpine asks State to Void Charter (of Mountainville Academy) by Caleb Warnock
"Residents of the Healey Neighborhood in Alpine organized themselves into an anti-Mountainville group after learning the school was eyeing their neighborhood after neighbors at the school's first site on 100 South went to city meetings demanding the school find a new location."
<snip>
Morley said Healey neighbors have threatened charter school founder Rebecca Whitchurch "and told her they would destroy her and her husband in town and drag their name through the mud to get this charter revoked." (Oak's comments: It's good to know a nice strong LDS community is so full of Christian love. It really makes you want to move there...or maybe that's their point..of course it's not the whole community...)
"I feel so bad for the Whitchurches," Morley said. "They don't make one dime for the work they are doing. They donate their time and effort to promote something they believe in, which is school choice, and they have received threats and letters from this group that is uncalled for."
Saxon Success
Information obtained from: http://www.illinoisloop.org/math.html#saxon
For the record, I just want to reiterate that even though I'm very pro-Singapore math, Saxon is still an excellent program. I'd rather see properly implemented Singapore math in the schools due to the more challenging problems and aid in visualizing solutions, but Saxon is still a fine program that would be a blessing to students in any district.
Anne Arundel county in Maryland switched off fuzzy math programs to Saxon in 2002. Their scores after just one year of being on Saxon nearly doubled, which is similar to the success in California for schools that switched from Mathland to Saxon and some of them trippled over a 4 year period. To pull up a graph showing the 14 LOW INCOME LOW PERFORMING schools in the district that made the switch to Saxon math and the results that ensued, click here.
For more information on this Maryland district, go here: http://www.pbsfx.org/
Math Movie (MUST SEE)
No, I haven't sold the rights to the ongoing math saga in Alpine, this one is even worse (if such a thing were possible). A couple petition signers sent me a movie clip this week you have to see to believe. I didn't dare attach it to this email since it's about 4 meg in size and some of you are on modems. Click here to download the file and watch something even more preposterous than Investigations math.
Weekly Comic
Our usual artist is in transition for the next month so I'll either be sending out substitute comics or we'll recruit another artist to help out. This was emailed to me recently and I thought it most appropriate to send out.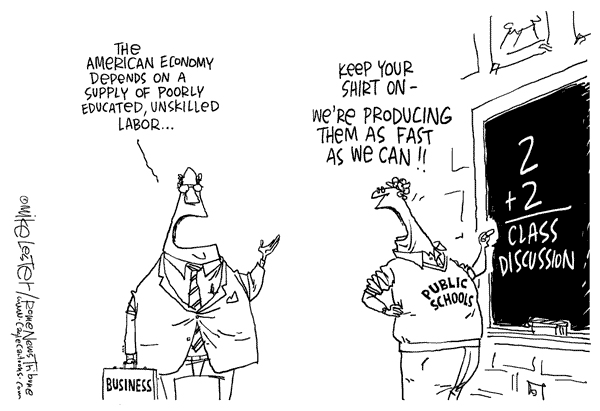 Archive: http://www.oaknorton.com/weaponsofmathdestruction.cfm
Till next week,
Oak Norton