Weekly Math Updates
July 26, 2006
Contents:
Wrapping the Math Fight Up
Orem School District Update
Site Update
Media
Weekly Comic
Hi all,
After a week's break I feel refreshed and ready to go. I've learned there are some good things happening on the national level which might help influence decisions at the state and local level...but more on that another time.
Wrapping the Math Fight Up
I'm sure some of you are wondering how long this math fight is going to continue so I thought I would outline the remaining goals of this project before we are pretty much done.
1) Support the residents in Orem trying to break off from Alpine School District to bring more local control to all of us
2) Help a couple of pro-"real"-math school board candidates get elected
3) Get Utah to improve their math standards
4) Next winter when Alpine chooses two programs for schools to choose from (one traditional, one fuzzy), help residents make the best choice (hint: traditional math)
I'd guess about 7 months are left. The first two items will be over by November, the third will have some action in October and might carry into the next legislative session during winter/spring 2007, and the last item will be in that same winter time frame.
Orem School District Update
The Orem School District site has received a face-lift with more information. There's also an excellent article on the site you simply must read by Representative Jim Ferrin about why school districts overspend for political reasons and why smaller districts mean less spending. Go to the site and click on District Spending.
http://www.oremschooldistrict.org
Also, to update you on the feasibility study, it appears the Orem City Council will vote on August 8 at 6 PM whether to include an initiative on the ballot in November to break off from Alpine School District. Please mark this night on your calendar and plan to attend if you are an Orem resident or if you would just like to help support this move.
Site Update
It's been a while since I've done an update on the website and with some data provided by David Wright, I thought I'd create some graphs and show the current pickle Alpine School District has created around itself. Check out this page:
http://www.oaknorton.com/imathresults33.cfm
Media
Most favor creation of small school districts (Deseret News)
http://deseretnews.com/dn/view2/1,4382,640197723,00.html
Jordan school district's feasibility study says they should split. The full article discusses a Dan Jones survey of Utah residents and what percent are in favor of smaller districts. This movement toward local control is really picking up steam. Parents are frustrated across the state with the way education is out of their reach to control or even have a say in what their children are taught.
Weekly Comic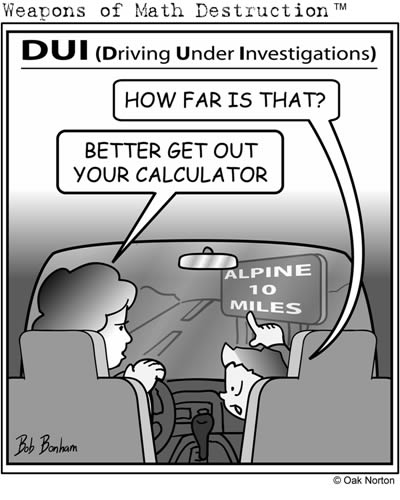 Archive: http://www.oaknorton.com/weaponsofmathdestruction.cfm
Till next week,
Oak Norton