Weekly Math Updates
January 03, 2007
Contents:
Happy New Year
Hi all,
I hope you had a wonderful holiday break with your family and are now ready to jump back in. There are some interesting things going on that we need to be mindful of.
District Math Schedule
I received this schedule from the principal at my child's school concerning the timeline for selecting and implementing new math programs in the district. This schedule may not match up with your own school. This is a tight schedule and will not allow ASD to see what changes the state is going to make to its standards. If you want to have a say in your child's education, now is the time to contact your principal, all your school's community council members, and your district community council member (ask for names and phone numbers by calling your school).
February 7 - District Math Committee will preview materials by textbook companies.
February 8-9 - School Math Committee will preview math materials by textbook companies.
February 13 - Board of Education will preview math materials by textbook companies.
February 28 - Board of Education approves two math programs.
March 12-16 - School faculties and School Math Committee (including SCC) review two math programs using the rubric and make math decision.
March - School presentation to patrons.
March 22 - Schools send choice of program to District Office.
Swearing In
Next Tuesday, January 9th, at 6:00 PM, Tim Osborn will be sworn in as a school board member at the ASD offices. We will also learn who the new board president is. Please attend if you are able and help show your support for Tim.
In God We Trust Donations
We are a bit closer to our goal but still need just over $1,000 to put a poster in every classroom of the district (including charters so don't not donate because you're in a charter). Remember, a donation of $25 puts 50 posters into classrooms and that small a donation would cover an elementary school entirely. Your $25 will influence thousands of children to center their trust in God, not government and public education. Please, if you can make a donation, do it today. If you can't, then ask around. Ask a business owner if they will contribute. I'd be happy to put a plug in for any business that donates $100.
http://www.oaknorton.com/donationpage.cfm
Media Articles
Who Teaches Teachers Explains a Dismal Record: Andrew Ferguson
http://www.bloomberg.com/apps/news?pid=20601039&refer=columnist_ferguson&sid=aGM9th9NHYn8
This one is sure to be a controversial article. I have to agree with most of what this author writes and some of you teachers that read my emails may disagree, but my experience and correspondance with other parents leads me to believe these things are accurate.
"There's a dirty little secret behind fuzzy math. The technique didn't become popular just because it supposedly made math easier to learn. It became popular because it made math easier to teach."

..." Thus the council's paper, welcome as it was, declined to reach the deeper conclusion about the crisis in math education: The problem lies not only with how students are taught mathematics, but how teachers of mathematics are taught teaching."

... "Lowered admission standards bring more students into the education school, [Arthur] Levine writes, generating revenue that subsidizes more prestigious departments within the university. This leaves little incentive for universities to clean up their teacher-training program.

Levine's research shows that even the students themselves know how weak their programs are. Sixty-two percent of ed-school alumni say their training didn't prepare them to 'cope with the realities of today's classrooms.' Surveys show that school principals agree.

What's to be done? A constructive fellow, Levine spends considerable time showing what works in the nation's exemplary education schools. (There are some.) The examples are so compelling they just might shame other universities into following their lead, removing a major obstacle to educational improvement in the U.S. "
Arthur Levine's Teacher Training
If you read the above media article, you may be wondering about Arthur Levine's research and the studies he cites. I looked up the actual documentation and these are pretty interesting reads.
Main Study Page
http://www.edschools.org/teacher_report_release.htm
On Educating Teachers (contains actual report links)
http://www.edschools.org/teacher_report.htm
On Educating School Leaders (admin training--another study worth looking at)
http://www.edschools.org/reports_leaders.htm
I would love to see teachers major in a field of study that they intend to teach to thoroughly understand the subject, and then minor in the other major critical field they could teach, and then minor in "education" which would cover classroom management and teaching techniques. We have to get teachers that understand math into the classrooms. The fuzzy math programs are so bad, teachers without math training don't even understand some of the problems to help students figure them out.
Weekly Comic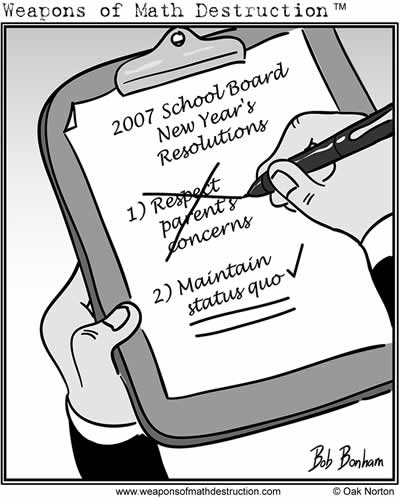 Archive: http://www.weaponsofmathdestruction.com
Till next week,
Oak Norton