Weekly Math Updates
$25 for Immortality. See below.
January 24, 2007
Contents:
Fantastic Legislation - YOU NEED TO CONTACT YOUR OFFICIALS AND SUPPORT THIS BILL H.B. 144
This last week in the legislature has proved fruitful with a couple of bills coming forth that could really make a huge impact in Utah. The first bill is one sponsored by Kenneth Sumsion from Lehi. This bill will require that every 2 years after a school district superintendent is appointed to that position, his or her name will appear on the general ballot for a retention vote. This will finally turn the attention of superintendents to the entire district instead of just catering to a few board members to keep their support. Here's the bill itself:
http://www.le.state.ut.us/~2007/bills/hbillint/hb0144.htm
There are also some unlisted bills (don't have the actual text posted yet) being run by Steve Urquhart concerning school vouchers, and several bills by Howard Stephenson related to charter schools and education issues. I'll report on those as they become available, but please, please, please, contact everyone you know to support HB 144.
Powerful Video
This next piece is a must see for the visual comparison of Investigations and Everyday Math to traditional algorithms. It's produced by a TV news meteorologist in Washington state who has joined the fight they're waging for better standards and curricula there. Please watch and forward this one to everyone you know.
http://www.youtube.com/watch?v=Tr1qee-bTZI
Voucher Argument
Anyone who missed the opinion piece by state school board president Kim Burningham, missed a great reason to get ill. His view piece was called, "vouchers would hurt schools". To be sure, vouchers are a contentious issue and even as one who has opposed them in the past, I only endorse them now due to the level of power school districts and educrats have over our lives. Todd Whitaker sent me his excellent rebuttal this week and he's agreed to let me publish it here.
http://deseretnews.com/dn/view/0,1249,650221621,00.html (original piece)
I am writing in response to the article printed in the Deseret Morning News just days ago by Mr. Burningham addressing educational vouchers, or scholarships. I am of the opinion that vouchers can do nothing but benefit the children here in Utah. The standards that have been set for public education are incredibly low. No matter the amount of budget the state allocates to our public school system, there is nothing to show for it and no requirements for accountability. The teachers continue with their insufficient salaries and the responsibility to supplement their meager budgets by purchasing their own materials for their classrooms. No improvements are seen in our educational standards or the dollar amount spent per child.

Thus, knowing the status of our current public education system, there is something to be said for even considering a better solution and alternative for our children. With any change, there will certainly be skepticism and doubts. Naturally, no one knows the end result. However, one cannot sit idly by, waiting for improvements to be made by changing nothing.

I would like to address some of the concerns voiced by Mr. Burningham.

· Equal Opportunities for Everyone: First and foremost, the entire purpose of the voucher system is to provide a quality education for all of the children here in Utah, regardless of their financial situation. It is our current situation that leads to disparity and uneven playing grounds, not vice versa. Presently, parents who cannot afford to enroll their child in a private institution are at a loss. Children are not receiving the attention and materials they need to assist them in reaching their potential.
Additionally, children either advanced or delayed in various subjects are required to do the work of the average student, receiving no help to fit their needs. They are simply overlooked in the crowd of students and left behind. Even in a charter school situation, a child's education is on hold until a decision is made by lottery.

· Higher Standards for Education: Vouchers are created to raise the standards of all schools. A school not equipped with an excellent curriculum, appropriate facilities, and a supportive and caring teaching staff will not be selected by parents and families. Schools, whether they are labeled as charter, private, or public, will have no other choice but to perform at their best and deliver the most quality education possible.
Teachers, and schools in general, that go the extra mile will be rewarded according to their efforts. There will no longer be the frustration of children not learning in the classroom. This will not be an option. Parents will follow and support the schools that are doing what it takes for children to succeed in their education. All schools will follow suit and rise to the occasion.

· Freedom to Choose: Giving families the freedom to select the school that best fits their child's needs and circumstances will bring about success for each child in the long run. A child may attend a school that excels in technology or sciences, according to the child's strengths and interests—each achieving his/her potential and a sense of self-confidence in a setting that will foster their individual growth. In addition, families will be able to select the school in which they feel comfortable with the standards and values being taught—religious or non-religious—it is everyone's right to choose. This, in my opinion, is constitutionally correct.

Vouchers can only lead to improvement in our education system. The school with the best product for the best price will be successful, and this is what administrators are afraid of. They will have to be held accountable for their curriculum and effort. If a school doesn't perform, they will fail. It is this attitude that requires everyone to be the best that they can be—and the children are the ones who will benefit from it.

Thank you for your time and for your concern in addressing the matter at hand.

Sincerely,

Todd Whittaker
Bizarre Atomic Factoid
OK, I haven't done the math to prove this :) , but I heard a scientist from BYU mention today that there is so much distance between electrons and neutrons in atoms, that if you took all the people in the world and collapsed their atoms so that the electrons and neutrons touched, you could fit everyone's atoms in a small cup.
Sort of makes me feel a little less significant than I did yesterday...
In God We Trust Donations
OK, so immortality is free and that headline was obviously a marketing ploy. I am desperate and needed your attention. :) But seriously, what greater legacy can we give our children that will last forever?
I am very grateful for those of you that have contributed to the poster project. We have over $600 collected and need less than $900 to put these posters up in every single classroom of the district. Bob Bonham is working on the design so you know it's going to look good. Please contribute just a few dollars. $25 will pay for all the posters for one school in the district but even $5-10 will help us reach the goal. This email goes to hundreds of you that have benefited by the actions of a few, and we have all been the beneficiary of the actions of a few faithful founders that sacrificed all they had to give us our freedom. Please, don't make me buy a fraction of the posters and have to decide where to put them. Let's purchase all of them and fill the district with our national motto and a reminder that all blessings flow from God.
http://www.oaknorton.com/donationpage.cfm
Media Articles
Science hopes to change events that have already occurred
http://www.sfgate.com/cgi-bin/article.cgi?f=/c/a/2007/01/21/ING5LNJSBF1.DTL&hw=einstein&sn=003&sc=254
Ever heard of retrocausality? Einstein proposed that time travel was possible and scientists are set to start proving it with actions. Here's a quote:
"If you have the block universe view, the future and the past are not any different, so there's no reason why you can't have causes from the future just as you have causes from the past"
Weapons of Math Destruction by Oak Norton
http://www.edspresso.com/2007/01/weapons_of_math_destruction_oa.htm
I was asked by the Edspresso site to do an article on the Weapons of Math Destruction comics so I obliged and they have posted it if you care to read it.
Does Playing the Piano Make You Smarter?
http://www.switchtob.com/music44/article-107b.html
"Taking piano lessons and solving math puzzles on a computer significantly improves specific math skills of elementary school children, according to a study by UC Irvine researchers."
Weekly Comic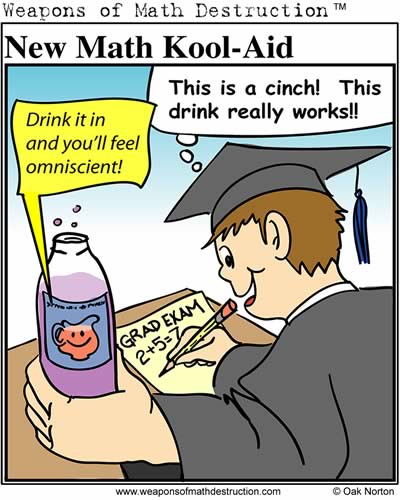 Archive: http://www.weaponsofmathdestruction.com
Till next week,
Oak Norton