Weekly Math Updates
March 15, 2006
Contents:

Stanford article
Running for the Board
Insane Investigations Math Parent Sheet
Test your child at home
Weekly Updates Online
Comic
Hi all,
Thanks for your efforts in contacting the governor on HB77. If you haven't done so yet, please call his office and voice your support. I had a great conversation with one of the Governor's key people on education issues and hope that it will produce some good fruit from all our efforts.
Stanford Article
My aunt in California sent me a newspaper clipping from the San Jose Mercury News recently. It is probably the very best article I've read describing the math war and why understanding follows repetition and memorization. It's written by a math professor from Stanford:
"Math back in forefront, but debate lingers on how to teach it"
http://www.oaknorton.com/mathinforefront.cfm
Running for the Board
Remember that Friday is the deadline to register to run for the school board. If anyone is interested, please get on the ballot. We have two people running that will be excellent candidates for districts A1 and A3. We are looking for people for A2 and A5. You can see the districts and who is running from this page:
http://www.co.utah.ut.us/dept/clerkaud/Elections/Candidates.asp
Insane Investigations Math Parent Sheet
Attached to this email is one of the most bizarre things I've come across (click here to open). The second column is quite disturbing in how Investigations math sidesteps teaching subtraction concepts in favor of adding numbers from a point the child can comprehend and then just adding one to the problem with each iteration until the subtraction problem is solved. If that sounded complex, look at the example and then imagine a child trying to do this with 5 digit subtraction.
Test your child at home
Our British friend whom I previously sent his comments out to the list found this fantastic testing site which I had to pass on to you. It contains California test practice problems for grades 1-8 and will help you know the content that your child should be able to perform at CA's grade level standards. Answer keys are also provided.
http://www.csun.edu/~vcmth00m/practice.html
Weekly Updates Online
Over the last week I've added most of the prior weekly updates to my site so those of you that weren't here from the beginning and want to see the history of what's happened and the information available can now peruse the archives. Go here for the updates:
http://www.oaknorton.com/imathupdates.cfm
Comic
Be sure to forward this email or at least the comic to everyone you can. Keep spreading the word.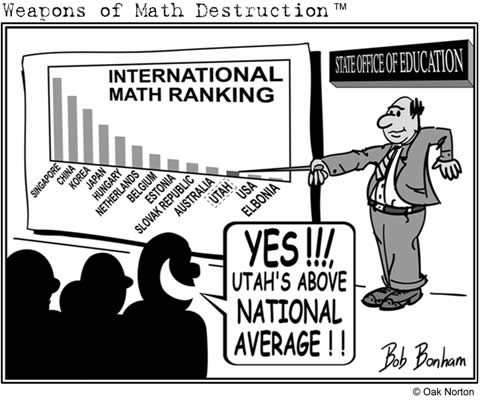 Archive: http://www.oaknorton.com/weaponsofmathdestruction.cfm
Till next week,
Oak Norton