Weekly Math Updates
March 8, 2006
Hi all,
Every week I think things may slow down and they never do. Great things are continuing to happen and we have a couple of things I really need your attention on this week. Items requiring special attention are in red (or have 2 asterisks ** by them if you don't get this in html format).
Contents

Almost 5% of ASD children represented on our petition
School Board Seats
Provo Herald Article
New pages on OakNorton.com
Legislative update - ACTION NEEDED
Red Ford Pickup with bumper sticker
Free Math Worksheets
This Week's Comic
Almost 5% of ASD children represented on our petition **
We are just 2 children short of having 5% of the district on our petition. Since I'm a little short on prize money :) I'm giving a free copy of Riddle Me (www.riddleme.net) to the person that takes us over the top as well as to the person that referred that person to the petition. Start talking to people now. We need to hit 5% today or tomorrow.
School Board Seats **
If you have at all considered running for the school board, or know someone else that might be interested, please encourage them to do so now. The registration has started and the deadline is next Friday the 17th. For a map of boundaries and a link to register, please visit this new page on my site:
http://www.oaknorton.com/imathresults31.cfm
Provo Herald Article "Professor: Clearer math standards needed"
This is the Provo Herald's article on David Wright's Mathematician Petition. You need to read this.
http://www.heraldextra.com/content/view/168442/
New Pages on OakNorton.com
Math Petition by Mathematicians - This is David Wright's petition with signatures from Ph D's at all of Utah's major universities. More names will probably be added to lend their support as word spreads. The purpose of the petition and names can be found here:
http://www.oaknorton.com/imathresults30.cfm
Insane Supplementary Materials Compound Investigations Math Nightmare
After sending out the horrid supplementary homework assignment last week, a national board certified teacher in ASD wrote me and I've posted the comments along with the homework here:
http://www.oaknorton.com/imathresults32.cfm
Legislative Update
2SHB77, Representative David Cox's bill, passed the Utah State Senate and House on March 1. It now goes to the Governor for signing. As amended, it will allow cities of the 1st or 2nd class (60,000 residents or more) to create their own school district by a vote of the people in that community. Smaller cities and unincorporated areas are permitted to band together to fulfill the resident requirement.
Other details of the bill state that the new district adopts the employee contract of the old district. The state superintendent is to review the boundaries after a successful election to make any recommendations for changes in the boundaries to include areas outside the city that would be better served by that district. The old district could not be left with less than 3000 students. Once an election passes, the process takes about 20 months before the new district separation is complete. Assets and liabilities are divided proportionately. Employees are allowed an additional year to transfer to either district without loss of seniority or standing.
**Please call the governor's office now at 538-1000 and voice your support for 2SHB77. This could be a very helpful factor in bringing about a curriculum change. All those people that got elected to city council may have a voice in education after all.
Red Ford Pickup with TUK.com bumper sticker
To the owner of a Red Ford Pickup with a Teach Utah Kids bumper sticker, I saw your truck for the second time this week. The first time I ever saw it was the day before testifying to congress. I took it as a good omen and a sign that things would go well. :) So for your boldness in placing a public statement on your truck and inspiring me, I have a free copy of Riddle Me to give you if you will email me your license plate number so I know you're the correct person.
Free Math Worksheets
A petition signer sent me this link to a neat site where you can print free math worksheets. It's pretty neat because it lets you customize what kind of sheets you want asking you, for example, if you want to use negative numbers, maximum and minimum values, etc... Check it out here: http://www.superkids.com/aweb/tools/math/
This Week's Comic
I've had to move the comic to the bottom of the weekly update. It has come to my attention that some people read the comic last week at the top and then felt so fulfilled they didn't read the rest of the update. :)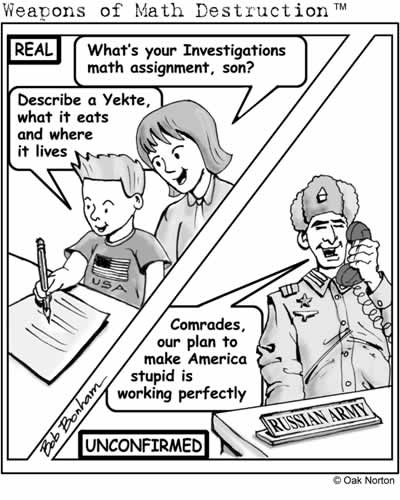 Till next week,
Oak Norton
http://www.oaknorton.com/mathpetition.cfm