Weekly Math Updates
September 13, 2006
Contents:
The Death of Constructivism
ASD's Legacy
Teacher Comment
Tim Osborne-School Board Candidate
Dual Enrollment Summary
Free Capitalist Invitation--I'm Speaking and You're Invited
Engineer Writes School Board
Media Articles
Star Trek--Taking Us Where No Classroom Has Gone Before (MATH RELATED BONUS)
Weekly Comic
The Death of Constructivism
After the HUGE news in the Wall Street Journal yesterday, the NCTM "Standards-Based" myth should finally find a nice grave to crawl into. If only the teachers and administrators could understand the major reversal in philosophy that occurred yesterday, they would understand that Constructivism was just given a solid kick in the pants and told to go home, lock yourself in your room, do not pass go, do not collect $200 (million) from any more school districts, and do us all a favor with the noose we conveniently left in your room (I am not an advocate of suicide but I will make this one exception).
Please, please, please print and deliver or email a link to the WSJ article to your principal, teachers, PTA president, and community council members and let them know Constructivism is dead and we should all be considering Singapore math as one of the replacement programs. This is a powerful article and should get everyone considering the use of Singapore math which is the very best program available and will produce superior students that can both compute and comprehend math. Further, we should stay as far away from Investigations version 2 as possible. It will not meet these new standards.
For your convenience in printing or emailing, click here for a copy of the article on my website:
http://www.oaknorton.com/wsj-arithmeticproblem.cfm
ASD's Legacy
After last week's update with several parent comments including one whose 8th and 10th graders who were having difficulty with multiplication tables, I got this email from another parent.
Regarding the parent whose child couldn't do multiplication tables; My ninth grader, Nathaniel, is an after school tutor in his school's, Oak Canyon Jr. High, math lab. Yesterday, he reported watching a seventh grader using long division to find the answer to 24/2. He was helping another seventh grader who asked him the question, "What is eight times three?".

The first highest priority of public education should be the teaching of reading, writing and math. In my opinion, the abc's of math are plus, minus, times and divide 1 - 12. Just like you can't read without knowing the letters, you can't multiply two and three digit numbers, add fractions or do algebra without knowing the basic times tables. A student who makes it to the seventh grade without knowing the basics, hates math and is afraid of math. That student will avoid math classes and avoid careers like computer science, engineering, accounting or business management that require a lot of math. What a tragedy. Bright, intelligent children think that they are dumb because they were never required to memorize the times tables IN THE THIRD GRADE.

When the investigations circus came to our school, Northridge Elementary, I talked to the proponents after the meeting and was told (among other things), "Rote memorization of times tables is ok, investigations is slightly better, but under no circumstances can the two be mixed because that will confuse the children and they won't understand either method."

After that meeting, I went to the Alphabet Station, 748 S. State St. in Orem, and bought flash cards. Since then, I have drilled my kids for 5-10 minutes a night. The result is that my seven year old son, Jonathan, knows his times tables 1 through 12. In his third grade class on Tuesday, his teacher handed out a math worksheet (plus and minus) and then began calling the children back individually to read with her so she could assess their reading skills. Unfortunately, she was being constantly interrupted by kids asking math questions, and she couldn't listen to any reading. So she finally said, "If you have any math questions, ask Jonathan.". My son, Jonathan, had finished his math worksheet in about 90 seconds and was sitting around bored. Last school year as an eighth grader, my son Nathaniel got the second highest score in Utah County on the Utah State Math Contest and won first place in the Utah County Math Counts competition. My fifth grader, Elizabeth, is also at the top of her class in math at Northridge elementary.

I mention that because all that I do at home is flash cards for 5 - 10 minutes a day. Plus, minus, times and divide 1 - 12. I don't think a parent needs to spend an hour a night on math. My children love math. They don't think that math is boring or hard and don't dread spending a few minutes in the evening on flash cards. My heart goes out to the parents and children who are struggling and behind; Those that hate math and are afraid of it. Their whole lives will likely be affected by the fact that they didn't learn their times tables etc. in the third grade.

I agree with the teacher's comment that the primary responsibility for the education of a child falls to the parent. It would be nice to have the schools help out a little but clearly, if a seventh grader doesn't know that eight times three equals twenty-four, something has failed. I appreciate your efforts trying to get rid of the 'junk' math in the ASD, but my approach has always been, that it doesn't matter what the schools are doing, MY kids will know their times tables. I wrote you this note, to offer a possible solution for those parents who see their children falling behind and are frustrated and don't know what to do.

Robert Merrill
I am personally grateful for the teachers who shut their doors and taught the times tables when the district told them not to. They remind me of the highest quality of U.S. Marines who think before acting...you don't shoot innocent people just because your commanding officer gave you a direct order. You have to know when to disobey orders and stand for what's right. Whistleblowers often face the wrath of their company for standing up for something at great personal cost. There are quite a few of these types of people in our district who bear the title "teacher" and stood up against a system they knew to be wrong. It's painfully obvious how wrong the district got it when you read stories like the one above and from last week. For the district to get something so basic, so wrong, is unconscionable. Alpine's legacy is set. They have permanently disabled thousands of children for life. For those still in the system, I hope it's not too late but they need some serious remediation.
Teacher Comment
I received this email from a teacher in Draper who said I could use her name. She was taught constructivism in her education classes in college but has had a change of heart since then.
I was doing a bit of research via internet about Project Follow Through and found your site. I find it very interesting and a breath of fresh air. I am a professional educator in a public charter school. Our school is data-driven and utilizes Direct Instruction all day long and specifically in skill acquisition classes. I was unsure of how it would work when I first interviewed for the position. I was a newly graduated professional and had been taught in college that Direct Instruction is the ineffectual drill-and-kill method. The way to go, they said, is constructivism! We learned how to teach absolutely everything using constructivism methods. During my student teaching, I was unsatisfied with the constructivism method and began inserting some DI techniques even though I was not familiar with nor trained in DI. I am now trained in Direct Instruction. I use Direct Instruction programs for teaching skill acquisition. I use Direct Instruction techniques for everything else. I feel successful because I know through weekly, monthly, and yearly data that it works. I track every student on a daily basis and see it work. If you had asked me in May of 2005 for my opinion of Direct Instruction I would have regurgitated a few phrases from my college classes. My views have changed dramatically. I am in full support of Direct Instruction!
--Deb Lovendahl
Tim Osborne-School Board Candidate
Tim Osborn (a supporter of our movement) is running against Keith Swain for the school board. He could use all the campaign contributions we can send his way. Please make a donation today. He also said he's happy to speak with anyone and that I could publish his phone number.
Tim Osborn
712 N. 200 W.
American Fork, UT 84003
(801)492-4436 Home
Dual Enrollment Summary
I have created a summary page of all the dual enrollment information including comments from you about how some of you are handling the situation for mid-day classes. For the whole scoop, click here.
Free Capitalist Meeting--I'm Speaking and You're Invited
If you've never heard about the Free Capitalist organization, it's an organization that believes in the constitution and making positive changes in society. They meet weekly in local chapter meetings and I have been invited to speak to their group this Thursday the 14th in Pleasant Grove from 7-8 PM. If any of you are interested in meeting me and checking out this organization I'd like to invite you to attend. The location for the meeting this week is the Utah Auto Sales building located at 17 N. State in Lindon.
If you can't make it this Thursday, I will be speaking to the Provo chapter on the 21st of this month at the FranklinSquires building at 85 East Bay Blvd. in Provo (use the Southeast entrance). This meeting will also be from 7-8 PM. Here's a link to the about page of the Free Capitalist organization.
http://www.freecapitalist.com/about/index.php
Engineer Writes School Board
This is one of the best letters I've found simply because it pulls the best research together in one place. This would be a good resource to share with teachers and anyone that wants to have "non-flawed" :) research available to review.
http://home.earthlink.net/~realmathnow/data/MathCurriculum.htm
Media Articles
As you know, the Wall Street Journal has picked up our story thanks to a contact in a high place who I am grateful chose to contact us. As you read, big things are coming. This is the national news I mentioned a few weeks ago would be coming on the focal points. I don't know all the ramifications yet, but as I learn them I'll pass them on.
These next two articles are from "John Dewey", the anonymous individual taking math coursework in college. I have previously linked to his first two articles and these are just as enlightening in how teachers are being indoctrinated in constructivism in their training. The teachers are big on NCTM standards and defend the lack of core items presented to children in the classrooms.
http://www.edspresso.com/2006/07/divergence_and_convergence_joh.htm
http://www.edspresso.com/2006/09/ed_school_and_the_stomach_flu.htm
Star Trek--Taking Us Where No Classroom Has Gone Before (MATH RELATED BONUS)
http://www.startrek.com/startrek/view/news/article/23775.html
Inspiring millions of children to grow up and dream of becoming Scotty the wonder-engineer, and millions more to painfully apply clothes-pins to create pointed Vulcan ears, Star Trek, The Original Series, returns this week running digitally remastered episodes with updated graphics and effects where possible, and enhanced audio as well. They're trying to stay very faithful to the original series look and feel but putting in updated CGI and effects to eliminate some of the velveeta (cheesy) look from the cutting-edge 60's special effects studio work. The first episode is Balance of Terror, one of the great classic episodes between the Federation and Romulans.
Let me just say for the record, this episode shows Kirk at his finest and in my book he clearly beats Picard as captain of the Enterprise almost solely for being the only academy student to ever beat the Kobayashi Maru simulator...
Start watching this Saturday the 16th (KUWB for locals) when the newly revamped show starts airing.
Let me further say regarding Star Trek, that after watching the first season of Babylon 5, I had to quit watching DS9 and Voyager (which were airing new episodes) as they were so pathetic compared to the story arc contained in the Babylon 5 sci-fi show. Excellent stories, excellent writing and acting, and the strictest attention to physics. Babylon 5 is the all time best sci-fi show...just an opinion, from someone that's watched them all.
Weekly Comic
Dedicated to NCTM...May you rest in peace.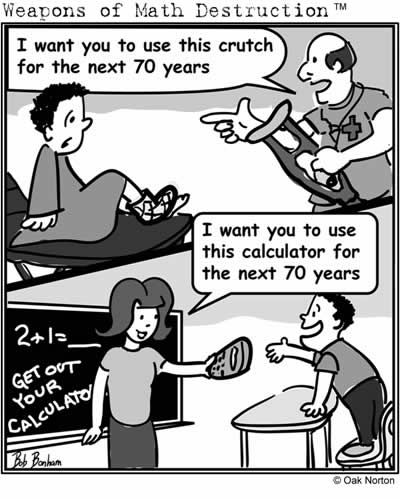 Archive: http://www.oaknorton.com/weaponsofmathdestruction.cfm
Till next week,
Oak Norton