Weekly Math Updates
November 8, 2006
Contents:
Election Results
So What's Left?
Reasons to Split ASD
Math Site
Media Articles (mostly Bond related)
Weekly Comic
Election Results
So naturally the big news of the week is how the elections went. Here's the results from the key races we were watching:
School Board: TIM OSBORNE WINS BY LESS THAN 200 VOTES!!!! THANKS TO YOU THAT HELPED VOLUNTEER AND GET OUT AND EARN THOSE VOTES FOR TIM. I KNOW THAT PUSHED HIM OVER THE EDGE.
Senate District 11: Howard Stephenson wins
Senate District 15: Margaret Dayton wins
House District 27: John Dougal wins
House District 56: Ken Sumsion wins
House District 58: Ed McGarr loses to Stephen Sandstrom
House District 60: Brad Daw wins
County Commissioner seat: Steve White wins
Alpine bond and leeway both pass
All in all, a pretty great success of people we wanted and needed in office who will help the push for higher math standards.
So What's Left?
With the election over, the list of things left to accomplish is as follows:
Get Utah to adopt California's math standards and assessments
Get ASD to choose two quality math programs to have the public choose from in the Spring
Split ASD
The election results help us continue to push for the first item. We have re-elected some strong voices in the legislature and should have some good success during this next term.
On ASD choosing two quality programs, my confidence went down this week when I learned there are NO parents on the committee, just district employees.
Splitting ASD is still a priority. For those that want reasons, here's a few from my post on the Cedar Hills forum if you didn't read it.
Reasons to Split ASD
Here's a link to the full thread if you care to read it all.
http://www.cedarhillsforum.org/viewtopic.php?t=628
1) Spread out the workload--the school board members are overworked for next to no pay.
2) Room for expansion--easier to manage growth when you're smaller and have fewer overall concerns.
3) More local leadership--representatives are closer to the people.
4) Better financial management of resources in a smaller zone.
5) More willingness of people to participate if they have a limited role--by expanded workloads you shut people off by their unwillingness or inability to devote that much time to a position.
6) Reduce bureaucracy--a smaller district doesn't need such large overhead in personnel in a district office.
7) Greater ability to have changes implemented district-wide in a timely fashion.
8 ) ANY curriculum (math included) that has a solid program base would not have to be supplemented by hiring extra personnel within the district to write supplementary material. If your district had a completely put together program like Saxon math, you wouldn't need extra resources to supplement with (which Investigations by state mandate must be supplemented--weak).
Math Site
Someone emailed me about this site if you want to generate all kinds of worksheets for your kids to practice math. It is a subscription based site though not very expensive.
http://themathworksheetsite.com/
Media Articles
Bill Gates says West not supplying enough IT talent
Besides saying we're having a shortage of skilled and trained people, the most interesting thing Bill said was this:
He said roll-up and stuff-in-your-pocket screens would be available in the next few years and students would study from portable computer tablets that act as interactive tutors.

"The curriculum will be redesigned in such a way around that device," he said.
Direct Instruction, Direct Improvement (Claire Brefka)
I've mentioned direct instruction quite a few times along with Project Follow-Through. In this article, the author talks a bit about direct instruction reading. Here's a clip:
"Teachers are explicitly trained on how to teach reading by "following the script". The script is often a criticism of the DI program, but it is the greatest strength of the program for our students in our school. The students know what they are being asked to do in reading class. "
Weekly Comic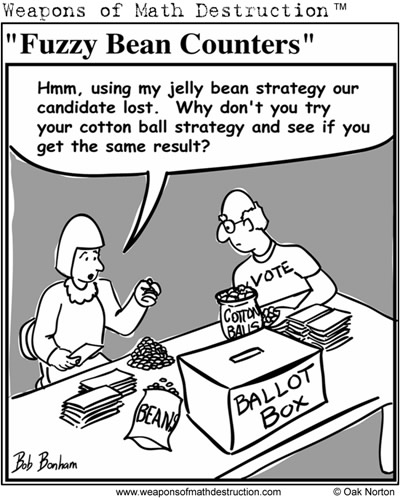 Archive: http://www.weaponsofmathdestruction.com
Till next week,
Oak Norton