Weekly Math Updates
May 2, 2007
Contents:
Judgment of the Watchmen
Einstein and Fairy Tales
Nancy Ichinaga - Administrator Extraordinaire
Weekly Comic
Hi all,
I found this quote which is kind of scary to think was true in Jefferson's day and how much further compounded it is today.
"The truth is that the want of common education with us is not from our poverty, but from the want of an orderly system. More money is now paid for the education of a part than would be paid for that of the whole if systematically arranged."
-- Thomas Jefferson (letter to Joseph Cabell, 28 November 1820)
More About the Parents
As you all know, Vern Henshaw in Orem stated that this was more about the parents than the kids. In trying to understand that statement and what was going through his mind that would cause him to say that, I was quite puzzled for several days. I know the board has discussed several times why a person (me) would go to such extraordinary lengths when there's no peripheral reason such as if I'm in this for the money (oh yeah baby) or to build a name for myself to enter politics or something. It doesn't make sense to them. In fact, JoDee Sundberg may be in denial as she emailed one of you that she was unaware of any petition existing. :)
One person on the Daily Herald comments last week repeated Vern Henshaw's statement that Vern was right and this was more about the parents than the children. I just wanted to share my response as far as I can figure out what that means.
James T. said:
I agree with Vern, it's about the parents (not all the parents, just certain ones).

Oak Norton replied:
Really? What exactly would be the motivation of parents over the concern for their children? You think 10 charter schools in the district came about because parents thought it would be a fun project? "Gee, our kids are sure doing great in school but I'd like a challenge. I think I'll start a charter school."

Perhaps the parents have some personal vendetta against the district officers that you know of? I can't speak for the thousands of parents that have signed my petition to remove Investigations math and improve standards in Utah, but I had no idea who any of the school board people were when I took up this fight after my child's teacher said concerning the times tables, "oh we don't do that anymore." "What? How do you expect kids to learn the times tables?," I replied. She said, "Oh, the smart kids will just pick it up as they go." Defend that James. It's indefensible and immoral what has happened to children in this district and in similar situations all over the country. Constructivism is destroying children's lives. To say this is about parents shows complete ignorance of the situation. 67% remediation rates for incoming freshmen at UVSC tell the tale. Do you think children will magically step up and correct the situation against the administration? Responsible parents have taken the action because there is no one else to do it, most of all those who have been publicly entrusted with the children's education.
There is really little else to say. The watchmen assigned to the tower have fallen asleep, the thief has broken in and stolen what was precious to us. Therefore the masters of this vineyard are in the process of replacing those watchmen and ensuring such a tragedy doesn't repeat itself.
There have been many great comments to the article and I'm grateful for those of you that have also been defenders of the cause. If you'd like to read the comments here's a link to the article again and just scroll to the bottom and click to read through the comments.
http://www.heraldextra.com/content/view/219099/
Einstein and Fairy Tales
This week my wife mentioned something she'd seen at the Treehouse play area in the Ogden mall (now moved somewhere else) and thought it was a quote from Albert Einstein. So I did a couple of searches and found it to be true. It appears Einstein did make these statements:
"If you want your children to be intelligent, read them fairy tales. If you want them to be more intelligent, read them more fairy tales."

"When I examine myself and my methods of thought, I come to the conclusion that the gift of fantasy has meant more to me than any talent for abstract, positive thinking."
I must say how pleased I was to learn he said this. I have always valued the time I have spent reading books that carry me away from reality and allow me to explore the worlds other people have created.
A few years ago we started reading longer books with our children. I think we started with the Narnia series when we learned they were making them into movies so our children could have an appreciation for the story and we could discuss some of the symbolism of those wonderful books. Typically in our home we would read scriptures for a bit and then pull out the family story and that way make sure we got some of the "straight talk" before the "fantasy". :)
After the Narnia series was over we looked for other books that might be enjoyable for young children and also the adults. A couple of the best books I can recommend are these two by Dave Berry (yes the humorist) and Ridley Pearson. These books are prequels to the story of Peter Pan. They tell how he became able to fly and to live on Neverland with the Lost Boys and exactly how Captain Hook lost that hand. The books are absolutely wonderful for all ages and I highly encourage you to pick them up either as a family reading book or as great books for the kids to read over the summer. The authors were extremely creative in addressing how so many little details in the movie Peter Pan came about and thankfully there's more books to come in the series. In fact, I like these books way better than the Peter Pan movies that have been made thus far. Anyway, here's a couple links to Amazon if you'd like to purchase them.
Peter and the Starcatchers

Peter and the Shadow Thieves
The authors are also writing shorter books for younger readers but we were disappointed with the first one because Peter Pan wasn't even in it, just the other Neverland characters. One other thing, there's tension and suspense in these books but all our children sat through the readings and cried for more when we would stop at the end of chapters, including our 4 year old.
Of course if you don't own the Narnia series, you've missed out on one of the greatest stories ever told. Here's a link to the inexpensive 7 book paperback boxed set.
Narnia
If anyone has read C.S. Lewis' space trilogy, please let me know what it's like. That may be my next set of books.
Nancy Ichinaga - Administrator Extraordinaire
One of the biggest issues we face today in education is the lack of people that have vision. It all stems from a lack of competition and a lack of pressure. The unions fight anything that will generate that pressure when it would be for the good of the system. In business, leaders that lack vision just become managers, and people who manage miss opportunities to take big leaps forward. Where would Microsoft be if Bill Gates wasn't around? What happened to Apple when Steve Jobs was absent? Education has few visionaries and unfortunately when they try to rise to the top, they are rewarded for their efforts by being punished for their success.
Consider the story of Jaime Escalante who took a class of lower-class poverty students and turned them into Calculus geniuses. In most school districts including ASD, you hear constant excuses like "they're in a lower demographic" and "we have more kids on free and reduced lunch than they do." Nancy Ichinaga inherited a school in LA where the illiteracy rate was 95% and the school tested at the 3rd percentile for reading. Most principals would have said, "I'll try to do my best but given the circumstances..."
Nancy took no crap from anyone. In 4 years the kids were testing at the 50th percentile and eventually went on to become one of the best schools in LA. This is a must read interview with her addressing "fads" in education.
http://www.pbs.org/merrow/tv/ftw/ichinaga.html
It appears Nancy's success has come via programs like Open Court reading and Saxon math. Nancy says, "We believe all children can learn. And they do."
What we need are leaders like Nancy and Jaime who understand that regardless of a person's background, if they are taught, they can learn. But what happens to these success stories? They are punished by a system that has no competition and wants no one to stand out. Here are their respective punishments and they are by no means alone.
Nancy's opposition resulted partly because she refused to teach in multiple languages
http://www.townhall.com/columnists/DebraJSaunders/2001/02/13/you_can_fight_school_success
Jaime's story
http://www.reason.com/news/show/28479.html
Lastly, I haven't read this document yet but I plan to as it looks quite interesting. I found it while doing a search for information on Nancy and it's called "They Have Overcome: High Poverty, High Performing Schools in California." Here's a link and the recommendations based on the success of the schools examined.
http://www.pacificresearch.org/publications/id.564/pub_detail.asp
Policy Recommendations from the study:
For lawmakers and education policymakers, then, there are a number of lessons to be learned from
these schools that have overcome high poverty to achieve high performance. First of all, excuses such
as low income, family background, racial diversity, limited English proficiency, and standardized test
bias are invalid and should be ignored. Schools can overcome these challenges by focusing on key
factors that include:
• Empirically proven research-based curricula.
• Empirically proven research-based teaching methods.
• Comprehensive use of the state academic content standards as goals for student learning, guideposts for teaching, and tools for professional development.
• Use of frequent assessment as a diagnostic tool for identifying student and teacher strengths and weaknesses and for improving student and teacher performance.
• Standards-based professional development that emphasizes subject matter.
• Teacher quality and teacher willingness to use proven curricula and methods.
• Strong discipline policies that emphasize sanctions and rewards.
• Increased flexibility to use available funding and a reduction in bureaucratic rules.
Weekly Comic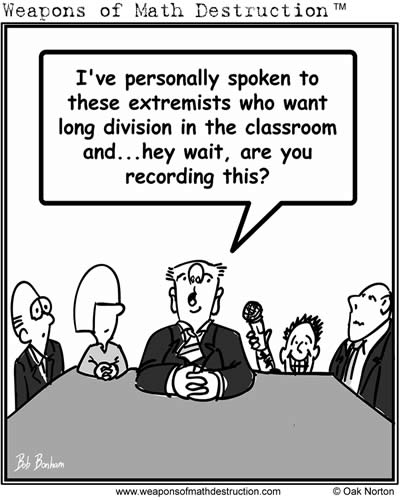 Archive: http://www.weaponsofmathdestruction.com
Till next week,
Oak Norton